The Rise of Cycling Safety and Environmental Impact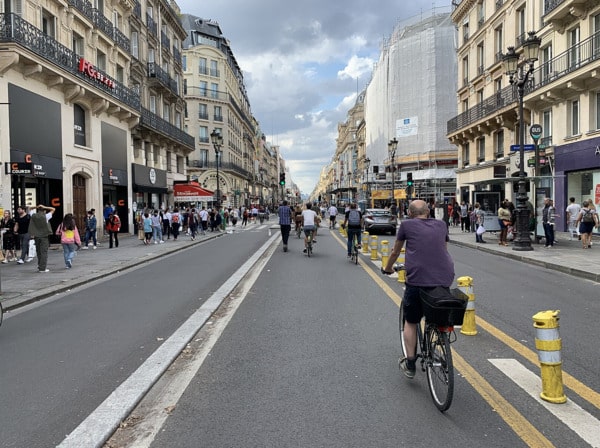 Development of cycle paths
Paris, the city internationally renowned for its iconic landmarks and vibrant culture, has been making headlines for a different reason in recent years. Paris has been undertaking ambitious drive to boost cycling safety. Paris as a city that values aesthetics and design, and its approach to cycling infrastructure is no different. The city has been constructing an increasingly dense network of cycle paths over the years, making it safe for cyclists of all ages to traverse the city. These paths weave through the city's architectural masterpieces and along its beautiful, tree-lined boulevards, making every cycling journey picturesque one.
These paths are clearly demarcated, with ample signage and separate lanes that protect cyclists from motor traffic. They are broad and well-maintained, minimizing the risk of accidents due to poor road conditions. At intersections, special traffic lights have been installed to ensure that cyclists can cross safely.
Impact of Covid-19
Long before the onslaught of the COVID-19 pandemic, Paris had begun to weave a network of cycle paths throughout the city. This visionary project, conceived as part of a broader sustainable mobility strategy, found renewed urgency amidst the pandemic. As health and safety became paramount, cycling emerged as not just an environmentally friendly mode of transport but also a socially distanced one.
As of now, Paris boasts an impressive 1,000 kilometres of dedicated cycle paths, transforming the cityscape into a cyclist's haven. This figure is set to rise, as Paris is further ramping up its cycle path construction ahead of the 2024 Olympic Games. The city aims to provide a safe and sustainable transportation alternative for spectators and athletes alike, whilst showcasing a progressive model of urban planning.
Safety of the cycle paths
The unprecedented expansion of these cycle paths has made cycling in Paris not just feasible, but also remarkably safe. Interwoven with the city's iconic landmarks, the paths offer a unique blend of functionality and aesthetic appeal. Gone are the days of dodging reckless drivers; cyclists now have their own spacious lanes, complete with dedicated traffic signals.
Environmental impact
This shift towards cycling has profound environmental implications. Cycling produces zero emissions, mitigating air pollution and reducing the city's carbon footprint. It also promotes physical health, a fitting antidote to the sedentary indoor lifestyle imposed by the pandemic.
Paris's commitment to cycling infrastructure signifies a paradigm shift in urban mobility. Amidst the bustle of the metropolis, the humble bicycle is steering the City of Light towards a greener, healthier, and more sustainable future.