Do you know the Village d'Auteuil in the sixteenth arrondissement of Paris? It is a charming and quiet neighborhood that attract very few tourists. The small cobbled streets, tree-lined paths and private villas provide a picturesque atmosphere. You can also spot some fine architectural examples of Art Nouveau and Art Deco on the side streets. An ideal neighborhood to explore with a Holland bike! We have mapped out a cycle route for you trough this magical village.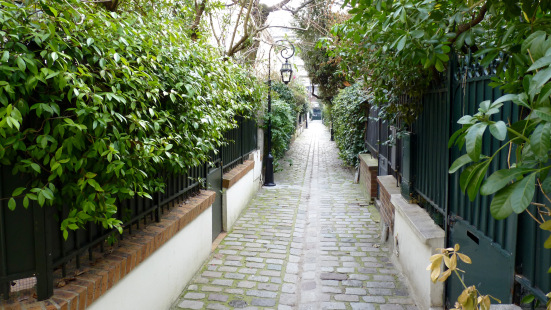 Description of the route
The starting point is 8 avenue Foch, one of our locations where you can rent a bike.  Once you have left the parking, take Avenue Foch towards Porte Dauphine. At the roundabout 'Porte Dauphine' you take the exit to Boulevard Lannes. Follow this road along Bois de Boulogne until Porte d'Auteuil. Then take Boulevard Murat. At the end of this boulevard there are three wonderful villas : 
–          149, boulevard Murat – Villa Sommeiller
It was originally a narrow passage of four meters wide,  created in 1885, later it became a villa. The passage bears the name of the engineer Germain Dufresne-Sommeiller. It's largely embellished with greenery and lined with small houses.
–          151, boulevard Murat – Villa Dufresne: °1885, the villa of the nephew and heir of the engineer Germain Dufresne-Sommeiller.
–          155, boulevard Murat – Villa Murat: ° 1881, also this villa was a passage until 1936.  
Then take Rue Parent de Rosan,  a beautiful private street  lined with adorable homes. At the end of this street, turn right to rue Boileau. Rue Boileau crosses quartier Auteuil from north to south. Many Art Nouveau buildings are present and are well worth a look : 
– 34, Hôtel Roszé: This hôtel particulier in art nouveau style was constructed in 1891 by Hector Guimmard and was originally a factory for gloves and corsets. The architect was influenced by the architecture of Tuscany. The beautiful ceramic stones on the façade were applied by Emile Muller.
– 67, Laboratoire d'aérodynamique de Gustave Eiffel: In 1912, Gustave eiffel installed his aerodynamic laboratory in this building. The labratory is not accessible to the public.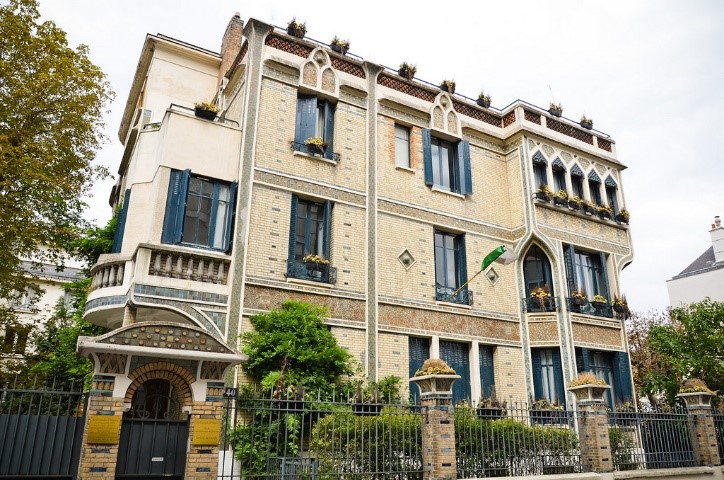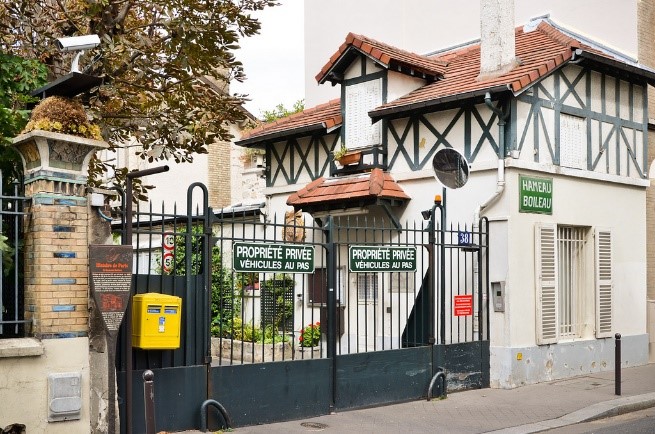 – 40, Hôtel Danois : This hôtel particulier, built in 1908, functions today as an annex of the ambassade of Algeria. The architect duo, Henri Audiger and Joachim Richard, incorporated Arabic and Venetian influences into the design.
– 38, Hameau Boileau: This house is the treasure of the street Boileau!  Unfortunately it's inaccessible, but no less magical. Boileau lived here in 1685 and Molière came to visit him often to write and discuss.
– 84, Villa Cheysson & villa Mulhouse: This villa consists of three streets and contains 67 pavilions. The villa was built in 1860 on the initiative of Emile Cheysson, a reformer for social housing.
At the end of Rue Boileau you turn left and you end up in Rue d'Auteuil. This pleasant street is the main shopping road of the neighbourhood. Take a look at the following buildings:
– 4 Rue d'Auteuil, Chapelle Sainte-Bernadette :  This brick chapel was built in 1936 by Paul Hulot. The interior of the chapel evokes an inverted boat hull and is decorated with a magnificent mosaic of the Virgin and St. Bernadette. 
– 11 Rue d'Auteuil, Lycée Jean-Baptiste Say :  Initially this was a small castle that belonged to the manufacturer of cahsmere Nicolas Ternaux, but in 1872 this building was redesigned as a school. The iron gate, the majestic forecourt and the triangular pediment on the façade are the only remains that still refer to the old castle.
At the end of Rue d'Auteuil, turn right and you will arrive at Rue Chardon Lagache, a residential street where you can also find two gems: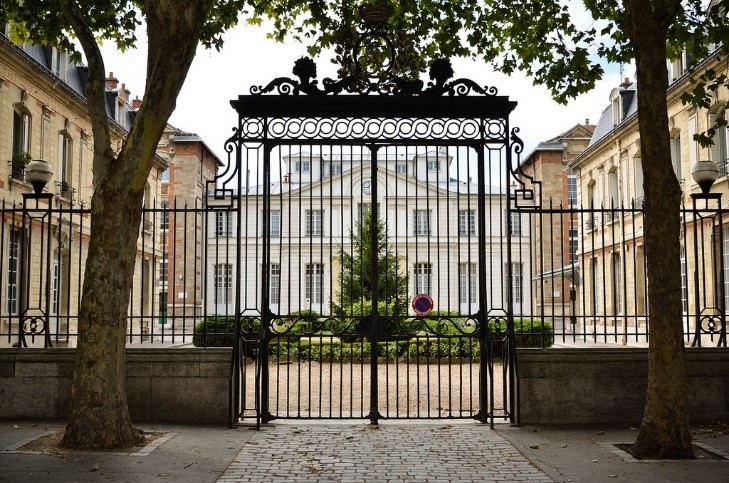 – 41, Hôtel Jassedé : This hôtel particulier was built by the famous art nouveau architect Hector Guimard. The facade is decorated with cabochons of colored ceramics designed by Guimard and produced by Emile Muller.
– 47, Villa de la Réunion :  The Villa de la Réunion is a big street that starts at 122 avenue de Versailles and ends at 47 rue Chardon-Lagache. There is also a house to be found designed by Guimard in 1905.
At the end of the street, turn left and follow Avenue de Versailles. At Pont de Grenelle, turn left and take Rue de Berton where the house of Balzac is located at number 24. This  modest house, with its courtyard and garden, was rented by Balzac from 1840-1847. It was acquired by the city of Paris in 1949, and is now one of the city's three literary museums, along with the Maison de Victor Hugo and the Musée de la Vie Romantique (George Sand). It is the only one of Balzac's many residences still in existence.
Then take Rue Raynouard until Place Trocadero where you then take Avenue Kleber towards our parking at 8 Avenue Foch.
A.       Starting point: Holland Bikes, 8 avenue Foch (level -2)
B.       Boulevard Murat
C.        Rue Parent de Rosan
D.       Rue Boileau
E.        Rue d'Auteuil
F.        Rue Chardon Lagache
H.       Rue de Berton
I.         Trocadero
J.       Terminus: Holland Bikes, 8 avenue Foch (level -2) 
Share this post
Share on facebook
Share on google
Share on twitter
Share on linkedin
Share on pinterest
Share on print
Share on email